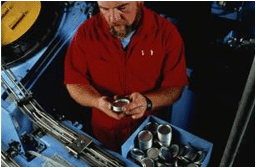 Digital technology and media grow more important with increasing data volumes involved. Efficient and broad prepress capabilities are essential to cope with the demands of cross-media production in particular. What has been prepared today must be integrated into the most varied media tomorrow - as quickly as possible and without any loss of quality.

The name of the game is minimizing production times with completely digitized production workflows and database-supported networks. Any way you look at it, prepress is assuming key importance across the board, driving a dynamic new marketplace.

Al Ajial supplies the integrated solutions you need - featuring open interfaces and top quality.

Al Ajial offers open and scalable solutions for all the challenges in the print media industry. For family businesses as well as for large industrial plants, for prepress specialists as well as for print finishers. Al Ajial is there for you at each stage of the process with state-of the-art products and services. We know that our customers' success is our success.